Third String Entertainment & Disco Donnie Presents Present Lineup For
So What?! Music Festival 2023
Featuring:
Pierce the Veil, The Used, Neck Deep, Sleeping with Sirens, Thursday, Forever the Sickest Kids, Breathe Carolina (live set), Don Broco, Head Automatica, Freddie Dredd, Saosin, Lil Darkie + many more
Saturday June 24 • Sunday June 25, 2023
Fair Park – Dallas, TX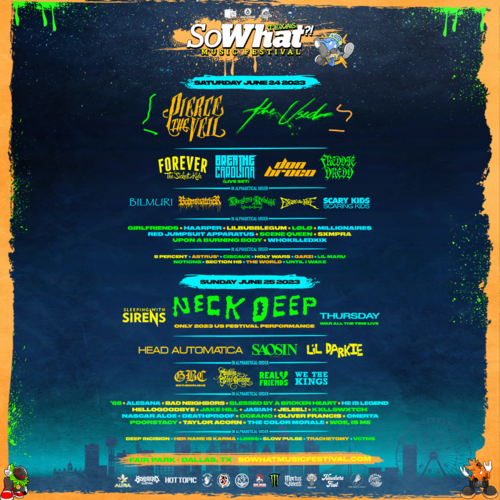 Dallas, TX, Tuesday March 21, 2023 – Dallas' renowned So What?! Music Festival is roaring back for its 15th edition, boasting a new partnership this year between distinguished Texas promoter Third String Entertainment and Disco Donnie Presents (DDP), the leading U.S. independent electronic music promoter, collectively known as Disco Punk.
Today, Disco Punk is thrilled to announce the lineup for the "eclectic and all encompassing"2023 edition of So What?!. Headliners include seminal rock acts such as The Used, Pierce The Veil, Sleeping With Sirens, and Thursday, who will be performing their acclaimed 'War All The Time' album. There's plenty more surprises in store for the longtime fans, as BreatheCarolina will perform a rare throwback live set and Maylene & The Sons of Disaster; Woe, Is Me; The Color Morale; Dallas' Forever The Sickest Kids; Millionaire$; and HeadAutomatica will each perform reunion sets.
So What?! is known for its groundbreaking curation, and this year is no exception, featuring some of the most in demand hip hop artists (both mainstream and underground) like Oliver Francis, the highly anticipated reunion of emo-rap collective GothBoiClique, along with the thundering 808s of screamo x hip hop project Jasiah, and the dark yet appealing beats of Freddie Dredd. So What?! Has a reputation for being the first to introduce the festival world to superstars like G-Eazy before he was recognized by mainstream festivals, making it all the more exciting for fans to get a chance to see rising artists and internet sensations like Phonk rapper Sxmpra, hyperpop's WHOKILLEDXIX, punk inspired rapper Nascar Aloe, and the abrasive beats of Haarper perhaps for the first time.
Founded by Mike Ziemer and Orlando Mendoza, So What?! First launched in 2008, blending pop-punk, rock, and metal. Since their start, So What?! has grown to become Texas' fastest growing festival of this kind, with past headliners including superstars such as Simple Plan, Trippie Redd, 100 Gecs, Rae Sremmurd, and Underoath.
DDP has primarily focused on the electronic music scene, producing over 18,000 shows and selling over 18,000,000 tickets in over 100 different cities since its inception, as well as over 300 club shows and events in Texas alone. Disco Donnie has long served as a mentor to promoters, and his experience in this industry is highly valued by the Third String Entertainment team.
"Although it feels like doing this festival for 15 years, I know everything, I absolutely do not. Donnie brings decades of experience in building and growing events like ours and helping scale them into much larger events." – Mike Ziemer
It's a partnership that allows each to flex their own strengths in a way that complements the end goal – creating an immersive and inviting experience for fans headlined by top tier talent.
"I've kept an eye on Mike and Orlando's success at Third String Entertainment for a long time – it's amazing what they've accomplished so far. We've always talked about working together and saw this year as the perfect opportunity. I see a lot of myself in Mike & Orlando. At the end of the day I believe this partnership will help develop the So What?! Music Festival and Unsilent Night brands to their full potential. I also think they can teach us a lot, as well." – Disco Donnie
"I think the overall experience for both artists and fans will be the best it's ever been this year. Just like us, Donnie takes pride in making sure no corners are cut with both and seeing the way he has brought so many great festivals to life is inspiring. His festivals always incorporate well thought out activations and interactive art and other things that we would love to begin including in ours." – Mike Ziemer
For more information including ticket prices, payment plan options and more visit SoWhatMusicFestival.com
Included in The Hollywood Reporter's Best Festivals of 2022
One of Complex's festivals to know about in 2022